Here are our top five at home things to do for you and your family to enjoy this weekend! Make some memories!
For more great family events, see Oaklee's  calendar of events!
---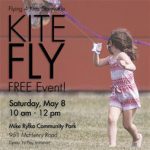 Kite Fly – Mike Rylko Community Park

Saturday, May 08, 10:00 am – 12:00 pm
Join us as we celebrate Flying 4 Kids, a statewide Kite Fly to promote park districts, recreation agencies, and the park district license plate. Bring your kites and enjoy a day out in the park, playing and enjoying wind and motion.
---
5K Mother's Day Walk for Peace – Glenview Community Church

Sunday, May 09, 8:00 am – 12:00 pm
Hands of Peace, an international non-profit organization that empowers American, Israeli and Palestinian youth to become agents of change, invites the Chicago community to sign up for its "5K Mother's Day Walk for Peace" on Sunday, May 9 starting at 8:00 am (CDT) at Glenview Community Church. $35.00 — General Admission.
---
Mother's Day Brunch at The Forge: Lemont Quarries

Sunday, May 09, 10am, 12pm or 2pm
Enjoy a well-deserved Mother's Day Brunch along The Forge Quarry at 10am, 12pm or 2pm and enjoy a brunch platter of Smoke Salmon with accoutrements, Grilled Kielbasa and brown mustard, Homemade Biscuits and Jam, Fresh Fruit and Honey Yogurt, Grilled Potato Salad and more!
---
Celebrate Mother's Day with a Brunch On the Water with City Cruises

Sunday, May 9
Mom figures of every kind deserve only the best, especially given this past year. City Cruises announced today its Chicago port will be offering specialty cruises celebrating Mother's Day on Sunday, May 9. Prices may vary.
---
Evanston History Center's Annual Mother's Day House Walk-By

Sunday, May 09, 11:00 am – 5:00 pm
This year, as in years past, a ticket to the house walk will be a handsome book with scholarly essays that highlight the architecture and architects of these houses. House Walk-By patrons will receive an electronic version of the House Walk-By book through email by 11:00 am on Sunday, May 9, 2021. Price: $25.00 to $30.00 — Children age 12 and up require tickets.
---