Here are our top five at home things to do for you and your family to enjoy this weekend! Make some memories!
For more great family events, see Oaklee's  calendar of events!
---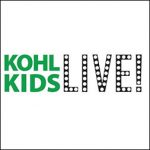 Kohl Kids Live: Monday Facebook Live Activity

Saturday, June 6th 12:00 pm
A roundtable discussion between teachers, artists, and youth on the value of arts learning. The world we reopen will not be the world we closed in March. This rupture has created a time of both uncertainty and insight, casting inequities in sharp relief, demanding we reevaluate what's core and set new priorities.
---
Little Miss Ann – Family Concert

Saturday, June 13, 10:30 am – 11:00 am
Have a rollicking good time with folk-rock performer Little Miss Anne, named "One of the Best Things to Happen to Chicago Kids" by Time Out Chicago magazine! Please register children only. Registration open now.
---
Bring The Zoo To You Facebook Live Chats – Brookfield Zoo

Monday, June 15, 11:00 am
Looking for ways to make your kids' time at home entertaining and educational? Or just need a fun break for yourself? Join Brookfield Zoo on Facebook every weekday at 11:00 a.m. Central for a "Bring The Zoo To You"
---
Now Streaming: "The Happiest Place on Earth" – Sideshow Theatre
June 7-30, 5:00 pm
Enjoy, from the safety of your own quarantine, Sideshow's Jeff Award-winning 2016 production, now available for Pay-What-You-Wish Streaming! TICKETS Tickets for this streaming video are pay-what-you-wish!
---
Crayola Orlando provides parents activities to keep kids busy and meet home school standards. Download free step-by-step crafting instructions, coloring pages, games, apps, and colorful science experiments using household items.
---
Sponsored by: "Mathnasium of Arlington Heights"
Mathnasium of Arlington Heights has been offering math tutoring and homework help to students in Arlington Heights, Prospect Heights, Wheeling, and the Rolling Meadows communities since November 2013.