Here are our top five favorite events for you and your family to enjoy this weekend! Get out there and make some memories!
For more great family events, see Oaklee's Digital Edition, or search our calendar of events!
---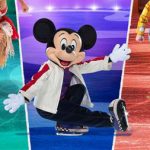 Disney On Ice presents Road Trip Adventures
January 31 – February 1 in Chicago
Exciting twists and turns await as Mickey, Minnie – and you – embark on a wild ride to your favorite Disney destinations. A fun-filled getaway jam-packed with unexpected hijinks and up-close character interactions!
---
Family Magic Matinee – The Newport Theater
February 2 in Chicago
"Family Magic Matinee" presented by Edd Fairman of Magic Shows Chicago. A fun, funny, family friendly magic show designed for children 5 years and up and their families. Performed at The Newport Theater in Wrigleyville.
---
Overshadowed Theatrical Productions presents The Lion, the Witch and the Wardrobe
January 31 – February 1,8 in Medinah
This thrilling tale of four children transported to a mythical, far-away land has gripped young and old readers alike for generations. See your favorite characters on stage.
---
No Sushing Movie Fridays – Gail Borden Public Library
January 31, February 7,14,21 in Elgin
Come enjoy a movie in a family-friendly, casual setting. Chatting and snacks from home are welcome. This program welcomes people of all abilities. Please contact the library one week in advance if you need accommodations. No registration required. Bring a friend!
---
Drop-in Family Storytime – Woodridge Public Library
February 5, 8, 12, 15 in Woodridge
Come to this new family storytime to enjoy books, rhymes, and songs! For children ages 2 to 5 with parent or caregiver. No registration is necessary.
---
Sponsored by: "CYT Chicago Northwest – The Music Man, Jr."
CYT Chicago's Northwest Cook County's production of The Music Man, Jr. runs Feb 13-23 at Prairie Lakes Theater, 515 E. Thacker St. in Des Plaines.