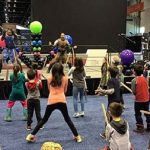 If you plan to take your children to the 2020 Chicago Auto Show to entertain them on the Presidents Day school holiday, be sure to get to the special events area adjacent to McCormick Place North Hall ticket lobby to take part in Family Day activities.
Themed programs and activities for children of all ages, sponsored by The Daily Herald Media Group and the Meet Chicago Northwest convention and visitors' bureau, will take place there from 10 a.m. to 4 p.m. on Monday, Feb. 17. Because this stage and event area is located right outside the gate to the auto show, it is free and open to the public. You don't need a ticket to the Chicago Auto Show to get into this area.
Family Day will feature affiliates of Meet Chicago Northwest who will provide fun activities at booths, as well as lively entertainment on the main stage, which will be decorated with colorful balloons provided by Balloons by Chicago.
My Party Princess, a party and event planning business, will facilitate appearances of characters such as Elsa and Anna from "Frozen 2" and Mal and Evie from "Descendants." In addition, mascots including "Brock the Croc" from the Raging Waves Waterpark, knights from Medieval Times, "Coop" from the Schaumburg Boomers, "Skates" from the Chicago Wolves, "Boogie" from Top Golf and "Squeeze" and "Ketchup" from Chicago Dogs will be on hand to interact with attendees and pose for pictures with kids.
There will also be 18 booths hosting activities such as interactive games and puzzles. The Daily Herald will have a caricature artist creating entertaining drawings of attendees.
Family Day Main Stage
Enjoy a nonstop schedule of performances on the Main Stage throughout the day. Times noted are tentative. For the most up-to-date schedule, go to events.dailyherald.com.
by signing up you agree to our terms of service
• My Party Princess: Performances by several surprise Disney princesses are sure to delight your little ones. (tentatively scheduled for 10:15 a.m., 2:15 p.m. and 3:45 p.m.)
• HOTT Productions Roselle: Featuring exciting dance team performances. (12:40 and 2:40 p.m. performances planned)
• Medieval Times: Children ages 5 to 12 can train to be a knight of the realm under the tutelage of Medieval Times knights. Learn to perform basic sword strike in a group-training session. Participants will then be raised to a knight or lady of realm in a group-knighting ceremony. Space is limited, so arrive early to reserve a participation spot. (11:35 a.m., 1:45 and 3:15 p.m. performances)
• Trickster Gallery of Native American Art: Dancers will be in full colorful regalia while they perform a Mexican-style, Nueallee cultural dance. (10:40 a.m. and 12:10 p.m.)
• School of Rock: School of Rock will take the stage to perform their favorites from the School of Rock acoustic shows. (11:15 a.m. and 1:15 p.m.)
Activity booths
Here are the Family Day sponsors who will have activities and giveaways this year:
Arlington International Racecourse
Spin the Arlington Park prize wheel for a chance to win.
Blocks to Bricks Museum
The Blocks to Bricks Museum in Schaumburg's Woodfield Mall features STEAM-based building activities and exhibits. Family Day visitors will get a taste of what they can find there. Guests can also guess the number of bricks to win passes to visit the museum.
Brookfield Zoo
Brookfield Zoo will keep the kids busy with educational activities and fun giveaways.
Caricatures by Bruce
Stop by the Daily Herald Media Group table to see what you look like in a caricature drawing.
Chicago Dogs
Stop by the Chicago Dogs booth to dress up as a hot dog and take a picture with the lovable "Squeeze" and the mischievous "Ketchup." You can also win prizes by playing the baseball team's fan-favorite "Lucky Dog" game and interactive "Three Strikes" game.
Chicago White Sox
Join the Chicago White Sox street team all day and spin the prize wheel for a chance at great prizes including T-shirts and more.
Chicago Wolves
Check out interactive games such as Shoot-on-Net, bags and equipment that you can try on for photo ops with the Chicago Wolves. They will also have drawings for Wolves prizes, including game tickets and other fun items.
HOTT Productions
Stop by to talk to dancers and teachers and then see the HOTT Productions NFP Dance Company perform throughout the day on the Family Day stage. HOTT (Helping Others Through Theatre) will perform everything from jazz and tap, to hip-hop and swing.
IKEA
IKEA will offer arts and crafts projects for the kids.
Medieval Times
During its three Main Stage performances, children ages 5-12 can learn from professional knights and perform the basic sword strikes used in combat. They will be taught in a group-training session featuring a full speed demonstration by knights using real titanium swords! Space is limited in each session. Also, be sure to pick up this year's event bag to get the 2019 Medieval Time Calendars and coloring books with great coupons.
My Party Princess
Stop by to experience surprise character appearances from the princesses and friends. You may also enter for a chance to win.
Pac-Man Entertainment
Stop by to spin the Pac-Man prize wheel.
PTHMW GoBabyGo
Pediatric physical therapists and engineers will modify off-the-shelf, ride-on cars for children in the community who face physical challenges. Stop by to learn about their mission; see the modification process; and watch as participants test drive their new rides.
Raging Waves Waterpark
Stop to meet Brock the Croc and enter for a chance to win a Family Four-Pack.
Schaumburg Boomers
Stop by for a game of bag toss for a chance to win and visit with their mascot, Coop.
School of Rock (Chicago, Chicago West and Glen Ellyn locations)
Check out our Music Petting Zoo where kids get the opportunity to play a variety of musical instruments. You can also spin the School of Rock prize wheel for chance to win.
Topgolf (Schaumburg and Naperville locations)
Topgolf will host a putting game for the kids to win fun prizes.
Trickster Gallery
Schaumburg's Trickster Art Gallery, the only Native American-owned and operated art institution in Illinois, will present (in partnership with the Aztec Dancers) an amazing full Aztec dance presentation for children and families to learn more about the rich cultural heritage of the Aztecs. Many think these are Mexican dances, but, in truth, they are Nueallee cultural dances and the dancers will be dressed in colorful regalia.